Head Chef James, stuns judges with his award-winning dessert!
Thursday 28 January 2021
A HUGE Majesticare congratulations to our incredibly talented Head Chef James Cotton, who on January 14th 2021 competed to be crowned the National Association of Care Catering (NACC) 'Care Chef of the Year 2020' 
Despite being pipped to the post by Tim, another supremely talented chef, James did not leave the competition empty-handed and was awarded the 'Highly Commended Dessert Award' for the stunning, tastebud tickling re-creation of his signature Black Forest Bakewell Tart.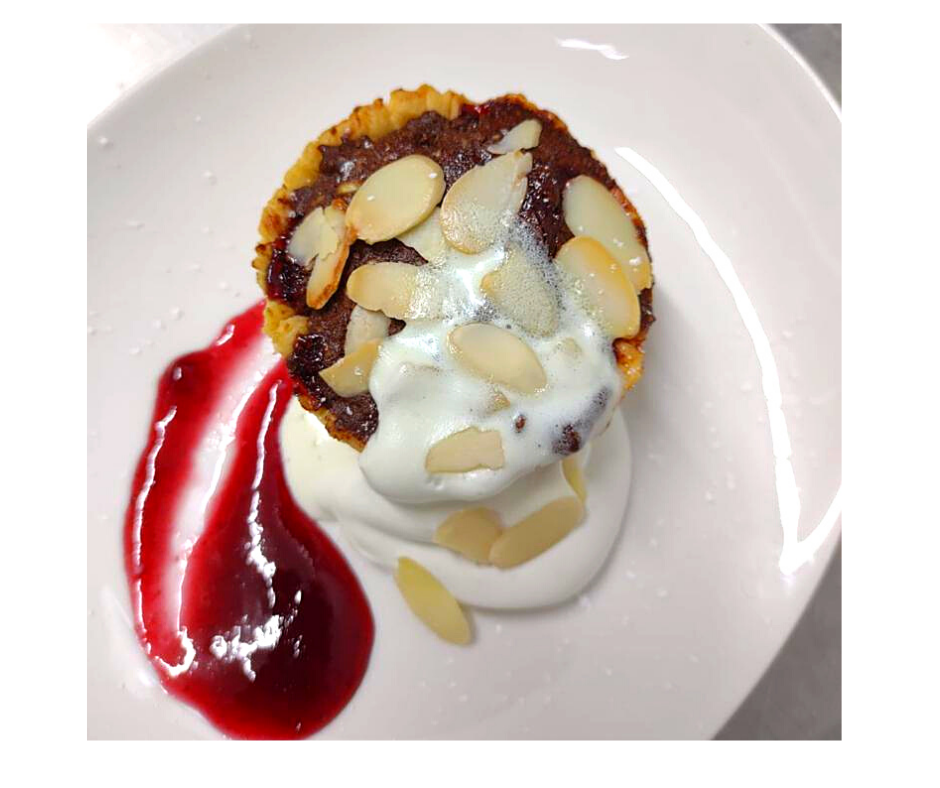 So who is the brilliant James Cotton…
James became part of our Majesticare family in October 2018, when he joined  Fernhill House Care Home as a Sous Chef. From his very first day at Fernhill House, it was clear to see James' incredible talent and passion for creating beautifully presented, delicious, and not to mention nutritious food! Recognising his flair and without hesitation, James was promoted to Head Chef at our newly opened Evesham Care Home.

So where did it all begin…
Although today James's culinary talents are clear to see, his career actually started by pure chance!
Whilst working as a kitchen porter at his local village pub he was one day asked if he could help cover for the Chef who was unfortunately or rather fortunately off sick and from that very night behind the stoves… James' passion for cooking was ignited!
James then went on to build a very well-respected career in gastropubs, leading and developing teams and creating wonderful menus full of homemade, good honest pub grub for everyone to enjoy!
In search of a better work life balance and not wanting to move away from his love of fresh, seasonal ingredients, James grabbed at the opportunity to move to a kitchen within a luxury care home where he could deepen his talent and knowledge even further.
---
Seasonal menus & local suppliers at Cavendish Park
At Cavendish Park, James and his team create a stunning 4-week rolling menu reflecting the freshest seasonal produce available, and he's dedicated to supporting his local community to source ingredients from local suppliers. James commented, "Alongside my keep it local ethos, there's nothing quite so satisfying as picking from our rich & plentiful homegrown fruit and veg, especially as it's loving tended to by our residents!"
One of James' biggest loves of his work at our Evesham home is the friendships he has with residents. "Creating a dining experience, such as our 'Cavendish Cooking Club' where loved ones can work together to bake cakes and homemade bread or knowing the huge smile when you create a childhood favourite from good old beans on toast to salmon en croute and apple crumble… it's why I love my job and what brings me to work every day with a smile"
---
Care Chef of the Year 2020… what a year!
James's journey into the 'Care Chef of the Year 2020' competition first began back in January last year when he flew through the first round of the competition with a rather tasty 2-course menu.
Main Course
A chicken, sage, gravy, and onion roulade served with fondant potato and a warm broad bean and pea salsa.
Dessert
An elegant Black Forest Bakewell Tart.
With a place at the NACC's regional finals secure, James prepared for the next round, a live Masterchef style final in Stratford to win the crown of Regional Finalist… however, due to the global pandemic and looking for that silver lining, in James's favour (!!) he was carefully selected as one of the top 2 chefs and through to the National finals!!
After many postponements in 2020, a virtual final live by Zoom, on 14th of January 2021 was declared and up against the top 12 Care Home Chefs in the UK, James took his place in his much loved Cavendish Park kitchen with the camera poised and 90 minutes on the clock!!
With focus and immense passion, James re-created his two stunning recipes beautifully and when presented to the judges, they had nothing but positive feedback.
Sarah Jennings, Head of Quality & Development for Majesticare, was rather fortunate to be called upon to be the "taster" for the judges! She commented, "Oh wow! James is so incredibly talented, the flavours and the presentation… and that dessert!! Just wow!! I feel very honoured and lucky to have been able to support the competition… erm.. James… I'll just be in the office – you don't mind if I take these with me, do you?!! 
The Judges thought so highly of James's culinary skills that they didn't think twice on presenting him with the 'Highly Commended Dessert Award'
Angela Boxall, Chief Operations Officer at Majesticare commented,
" We simply couldn't be prouder of James.  To see him not only reach the finals and be considered one of the UK Top 12 Care Chefs is just amazing but then to achieve a national award for his 'Black Forest Bakewell Tart' Fabulous! He is a true shining star at Cavendish Park and we feel very lucky to have him within our Majesticare family.   
On behalf of everyone at Majesticare, huge congratulations James!