A truly magical Christmas Conference & Star Awards!
Thursday 15 December 2022
'They Open A Door And Enter A World'
Welcome to Narnia and the Majesticare Christmas Conference and Star Awards 2022 By Natalie Ravenscroft – NAPA's Wellbeing Support Manager.

Do you have a favourite children's book? Something you would read or listen to over and over, never getting bored with knowing the ending? I do, for as long as I can remember as soon as I hear the word "Narnia" it takes me back to the classroom and sitting on that itchy carpet looking up at Mrs Barry holding onto the most beautiful big book with gold lettering. Lost in a world of magic, animals, and fantasy!
Fast-forward 33 years and an invitation arrived for me to attend the Majesticare Christmas Conference and Star Awards.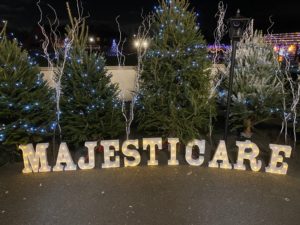 I had been prepared to expect the unexpected, but nothing could have prepared me for what I experienced – a truly celebratory extravaganza!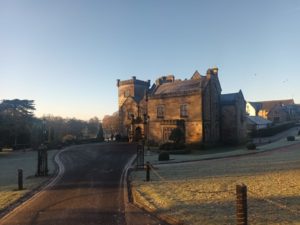 The venue was a stunning hotel in Derby, a building full of history, beautifully trimmed with festive décor. I was warmly welcomed by Caren and shown to the conference room where Adam Purnell was delivering a fantastic presentation. As I walked into the room I was met by the twinkle of fairy lights, and decorations, it was lovely to see everyone wearing their festive jumpers and enormous smiles!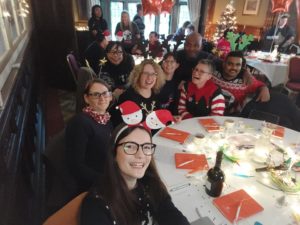 I enjoyed joining in with the festive fun, and was honoured to represent NAPA and share information from our practice development platform; The Shed, our plans for 2023, and, how we support our members to prioritise wellbeing in everything they do.
---
After a fantastic day we all departed in anticipation of the evening's events – The Star Awards! Suddenly it was 6:30pm, and one by one the conference delegates who had sported Christmas jumpers reappeared in their evening gowns and black-tie ensembles. Everyone looked incredible!
We boarded the coach and headed to the evening venue. I was about to be transported back to the magic of that 'itchy' carpet, my favourite childhood book was about to come to life!
As we stepped off the coach, I could hear people gasping, shocks of delight, then suddenly I could see why. In front of us stood the ice Queen from Narnia, except this was not just any person playing the part, it was Angela Boxall, the CEO of Majesticare!!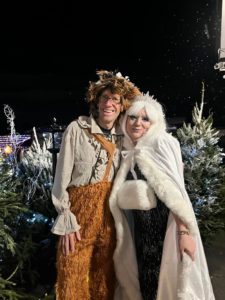 As we then turned the corner, still shocked and shrieking with sheer excitement Mr. Tumnus presented us with drinks, but wait someone shouted, "is that…no..it is… it's Steve Oakes!!" Finance Director of Majesticare. I think all of us knew at this point, that something magical was about to happen.
I have never stepped into a wardrobe and entered the magic world of Narnia, but that's exactly what we did. We entered an actual wardrobe filled with fur coats. As we came out the other side we met reindeer, snow, and an enchanted forest.
The atmosphere was electric; the sound of a flute filled the air, a caricature artist was drawing team members, invitations to try canapes to tantalise your taste buds, props like elf ears lay on beautiful Narnia wood theme tables, handwritten notes of thanks and support. The drinks were flowing and looks of delight filled the faces of dedicated employees who clearly felt valued and appreciated.
Whilst trying to take in the wonderment in walked Aslan!  People stopped to take photos, pull his tail and giggle at the sight of Aslan in the room.  Before heading on into another room this time filled with fun things to do, from a live printing photo booth, a donut wall, sweet station to a glitter bar. You did not know where to look next!
As the evening progressed, we enjoyed a delicious meal, we listened to residents and families praised the support and fantastic care they had received, we heard about the award and were moved by the accolades. We let the tears flow, gave standing ovations, and clapped till our hands stung. It felt such a privilege to be here sharing this amazing experience with these special individuals.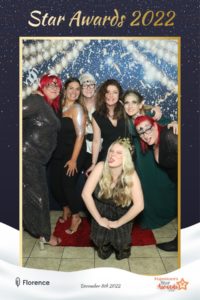 Soon it was time to hit the dance floor, the playlist had been carefully selected to encourage people to dance.
We had live music from Big Ian Donaghy and his band. As the set came to an end, Angela took to the stage and performed "I will survive" once again this incredible CEO was still providing everyone with jaw-dropping surprises!
As we returned to the hotel as if Angela has ordered it herself the snow started to fall, and it really was the perfect ending to a truly magical day.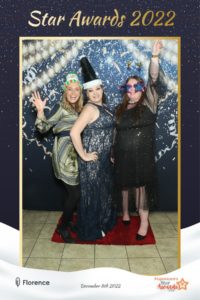 Thank you, for including NAPA in this truly inclusive event. Angela, you are inspiring, your teams are a credit to your leadership. It's not a 'them and us', it really is WE at Majesticare. 
---
Click here to learn more about the fabulous work of Natalie and the team at NAPA!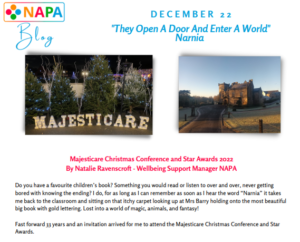 NAPA (National Activity Providers Association) is the UK's leading activity and engagement charity. They are driven to support care services to prioritise wellbeing and promote activity, arts, and engagement.