Leading the way in innovation at our Evesham home!
Tuesday 6 December 2022
Majesticare launch Alexa Smart Properties for Senior Living!
We are incredibly proud to be one of the first care groups in the UK to introduce Alexa Smart Properties for Senior Living at Cavendish Park, our award-winning care home in Evesham.
Collaborating with leading healthcare technology provider, the Ascom Group the integration of Alexa Smart Properties is a pioneering advancement to further improve our service levels and the resident experience.
Angela Boxall,  our CEO at Majesticare commented. "We're so proud to be one of the UK's first care groups to introduce Alexa Smart Properties into our care homes. Majesticare are passionate to be at the forefront of innovation in care, enhance efficiency and provide our residents with independence and choice. It's so important when a loved one moves into a care home, that friendships remain, and families stay connected which is why the introduction of Alexa Smart Properties for Senior Living at our Evesham home is so wonderful!"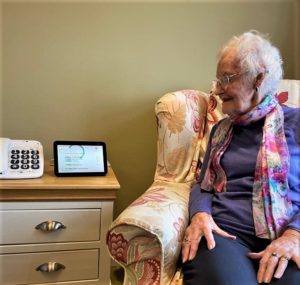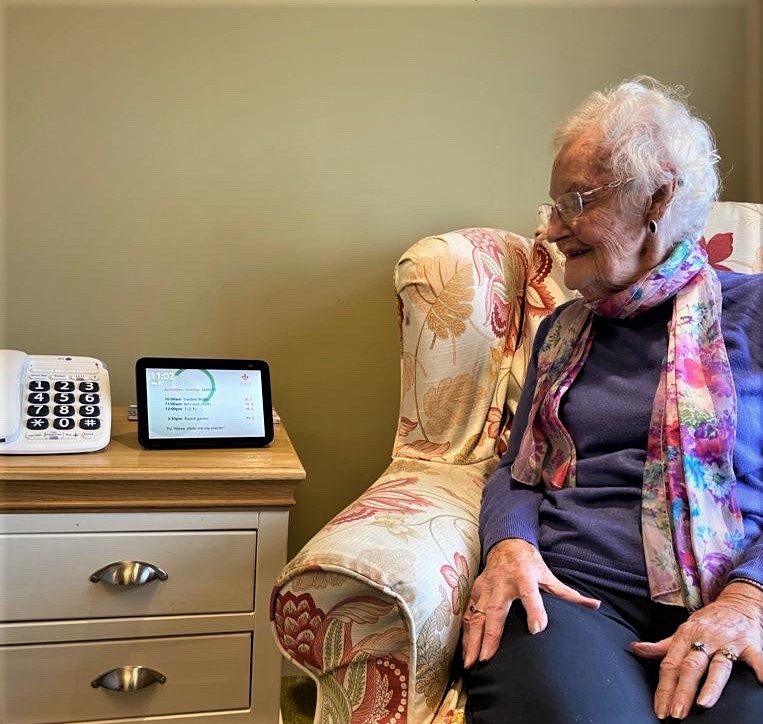 Alexa Smart Properties has been developed to enable care home residents to feel more informed, independent and connected. Through simple voice commands, residents can use Alexa to easily connect with family, friends and those who care for them. Empowered through independence, residents can keep up to date with local and international news, research hobbies and interests, listen to the radio and fundamentally, enjoy an easy way to call family and friends, enquire what upcoming activities are in the home and even ask what's on today's menu!
Nicolas Vanden Abeele, CEO of Ascom Group said: "We are excited to bring together Alexa Smart Properties and Ascom's state-of-the-art Ofelia software to offer a game-changing solution for senior living. With Alexa Smart Properties we see the potential to further optimize operations and to reduce costs, ensuring that resident experience remains front and centre of care homes."
The integration of Alexa Smart Properties with Ascom's orchestration platform for alert management and digital workflow design is pioneering. The solution can help care operators further improve the service they provide. Alexa Smart Properties for Senior Living also enables residents to stay in touch with their loved ones outside the property thanks to Alexa-to-Alexa calling. Family members can easily get in touch and see their loved ones via video calling, bringing them peace of mind.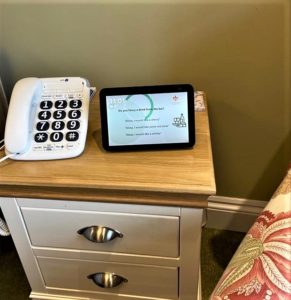 "We believe the intuitive and accessible nature of voice and Alexa has the potential to help and delight customers in many scenarios, in and outside of the home," said Meryem Tom, Director Alexa Enterprise EU, Amazon. "We're excited to extend the experiences that customers already love to European care homes and assisted living facilities and give providers new ways to support their staff while delivering personalized care for their residents."
To learn more about the innovative care and fulfilling lifestyle at our award-winning luxury care home, Cavendish Park visit:  www.cavendishparkcarehome.co.uk
---
About Alexa Smart Properties
Alexa Smart Properties' senior living solutions were designed with privacy in mind. No personal information is shared with Alexa to use the device, and voice recordings are not saved. Every Amazon Echo device offers multiple layers of privacy protection, and residents can disable Alexa's ability to respond to the wake word at any time by simply pressing the mute button on top of their Echo device. To learn more, click here.