Richard Fuller MP visits Milton Ernest Hall
Friday 8 July 2022
The perfect ending to Care Home Open Week!
As the day dawned and the sun shone down on our stunning Grade 1 listed, care home the excitement was starting to build for our visit from Richard Fuller, Bedfordshire's local MP!!
And what better way to showcase Milton Ernest Hall than to look back our rich heritage* with a 'Wartime Garden Party' complete with 1940's entertainment, games in the grounds and our very own Milton Ernest Landgirls!
Spending time with our Deputy Home Manager, Heather Donnell and Head of Clinical and Operations, Pam Brown, Richard also took time to meet with our Milton Ernest Hall team and lovely resident, Roy.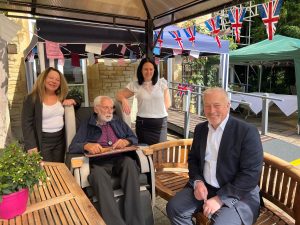 Reflecting on his visit Richard commented;
"I was delighted to visit Milton Ernest Hall and spend the morning talking to residents and their carers.
"Care homes play a vital role for so many families and Care Home Open Week provides the opportunity to thank the thousands of staff up and down the country for the incredible work they do in supporting residents."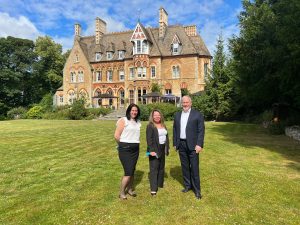 Following the visit, our Head of Clinical and Operations, Pam Brown, said what a delight Richard had been!
"A lovely man who spoke with genuine warmth and compassion towards our care teams and the care sector itself. Richard took time to speak with our resident Roy and Nurse, Clair talking to them about life at our care home" 
"Speaking on behalf of everyone at Milton Ernest Hall, Richard, you are more than welcome to visit us anytime!" 
On behalf of everyone at Majesticare, a huge thank you to Rebecca Woolley, Director at Championing Social Care for organising the visit for us!
---
*Milton Ernest Hall – our rich heritage.
Built between 1853 -58 by Church architect William Butterfield, Milton Ernest Hall was constructed in limestone in what became known as a Gothic Revival Style.
In 1906 the hall was sold to Lord Amptill and during the first world war, our care home became home to King George V's sons! And, during the second world wall, we became support command headquarters for the United States 8th Air Force and the UK base to Major Glenn Miller!