Revolutionary new 'Hug' arrives at Majesticare
Thursday 28 October 2021
Revolutionary new
'Hug'

for our dementia care residents ?

It's always been our aim to be at the forefront of innovation and to bring the very best care to enhance the lives of their residents which is why we dedicate so much time to researching and investing in the very latest technology and revolutionary new products.

We are proud to say after closely following this developing product we are one of the first care home groups to bring the 'Hug' to our memory care communities and throughout our care homes.

The 'Hug' is a wrap-around sensory product with a simple and effective aim… it's designed to be cuddled? With a beating heart, the ability to music from a favourite playlist, the 'Hug' is soft and weighted in all the right places.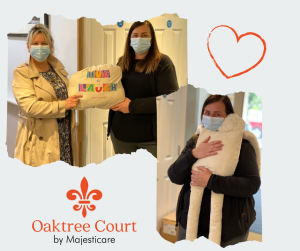 Official partners with the Alzheimers Society, the HUG by Laugh* has been carefully developed using research by Cardiff Metropolitan University and from an idea born from a Carer's simple request for resident Thelma, a lady with advanced dementia in her late 90's… "Thelma is in need of a hug"
Specifically designed to bring comfort and joy to those living with dementia the Hug has already been shown to improve wellbeing and social interaction whilst reducing anxiety.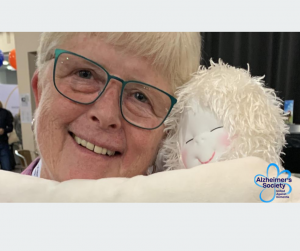 Sarah Jennings, our Head of Quality & Development at Majesticare commented:
"No one ever stops needing a Hug, particularly when you consider what we as a nation have overcome over the past 18 months.  These innovative, soft, and tactile products provide comfort and closeness to those vulnerable people who need it the most."
"The heartbeat brings residents to life and weighted limbs give a sense of being hugged in return."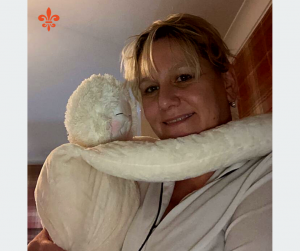 "The reflex action of a hug is almost always remembered. Giving the feeling of security and of love combined with the recognition of happiness makes this a truly wonderful experience for all. It's why we do what we do?"
---
If you are looking for a care home for yourself or a loved one, you can learn more about the rich and fulfilling lifestyle they will enjoy when they become part of our Majesticare family.
Follow this link to find your nearest care home >> Majesticare care homes