COO Angela Boxall on 'What keeps me awake?'
Wednesday 23 September 2020
What keeps me awake? I think it's my dedication to always keep everyone happy in every aspect of my life. I am hugely passionate to achieve the vision I live by every day at work, which is, "to create outstanding places for people to live and work." At home I still want to be the best mum to my eleven-year-old son, the best partner and the best daughter and sister to my huge and amazing family.
During the early stages of Covid-19, which felt like the most critical and the most unknown, our frontline teams continued to care for society's most vulnerable people with such incredible commitment. Their value was celebrated and acknowledged not only across the UK but globally, and every Thursday at 8pm, they were heroes.
But when the clapping stopped, our social care workforce did not stop being heroes. In fact, my respect grew even stronger because they just got on with the job, continuing to do what they do every day without hesitation. Throughout the pandemic, I have remained in awe of the personal choices made by care workers to put those they care for above their own needs and that they have done so without question and always with that sparkle & continuous smile!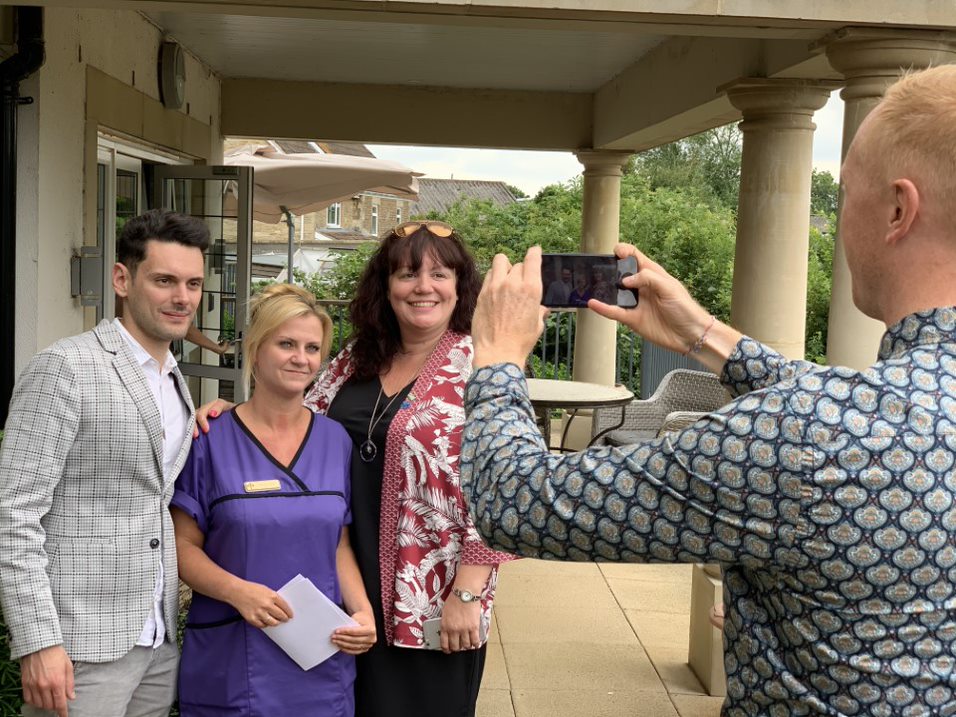 Image: Blenheim House Care Home, Melksham, Wiltshire. Taken 2019.
Overnight, care workers became entertainers, artists, and fitness coaches, to name but a few! They ensured that people living in social care did not feel isolated and remained engaged and happy.
They swiftly became experts in social media, ensuring families stayed connected with their loved ones through video calling. They became film makers creating TikTok videos that went viral. Care home entries for the BBCs #BigNightIn 'Is this the way to Amarillo' gained tens of thousands of views and impressively, a care home in Wales gained international media coverage for playing a real-life game of the classic, 'Hungry Hippos.' Creativity and innovation in care has a whole new meaning, and I firmly believe that this vibrancy and media interest will only continue to gain momentum!
It's this commitment that truly highlights how our amazing workforce, once considered low skilled workers, should continue to be recognised as highly skilled individuals, for their hard work, passion and dedication.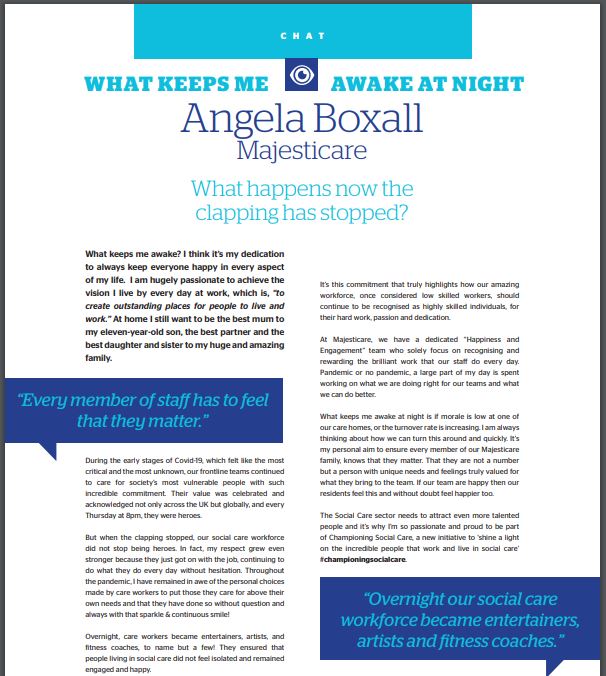 At Majesticare, we have a dedicated "Happiness and Engagement" team who solely focus on recognising and rewarding the brilliant work that our staff do every day. Pandemic or no pandemic, a large part of my day is spent working on what we are doing right for our teams and what we can do better.
What keeps me awake at night is if morale is low at one of our care homes, or the turnover rate is increasing. I am always thinking about how we can turn this around and quickly. It's my personal aim to ensure every member of our Majesticare family, knows that they matter. That they are not a number but a person with unique needs and feelings truly valued for what they bring to the team. If our team are happy then our residents feel this and without doubt feel happier too.
The Social Care sector needs to attract even more talented people and it's why I'm so passionate and proud to be part of Championing Social Care, a new initiative to 'shine a light on the incredible people that work and live in social care' #championingsocialcare.
I am very much looking forward to our launch in September, and to delivering even more to promote positivity from within our sector including the popular #SparkleforSocialCare campaign. It's a brilliant initiative, we are all very excited about, so please encourage everyone to..#WatchThisSpace
---
For more information on the wonderful, fulfilling & caring lifestyle your loved ones will enjoy within our beautiful Majesticare Care Homes click to view our locations and book your virtual tour today. 
Care shines through our Majesticare family, it comes from the heart to provide happiness to our residents through trust and creativity.