Celebrating National Read a Book Day
Monday 7 September 2020
What better way to celebrate #NationalReadaBookDay20 than by reading a book… well in true Majesticare Luxury Care Homes style we decided to do something just a little different to mark this special day and create what we think is one of the most heart-warming readings of Julia Donaldson's 'The Gruffalo'… featuring our very own, stunning gorgeous residents! ?
Our Majesticare adaptation of 'The Gruffalo' is read exclusively by the residents who live and share their lives within our Majesticare Care Homes. Each resident was assigned their very own character within the story and we can't thank them enough for their Oscar winning performances! 
The final video (see below) we believe… and know you will agree with, rivals some of the best book readings we have ever heard and seen!  ??
National Read a Book Day was celebrated across the UK on Sunday the 6th of September 2020 with millions of people choosing to share memories of their favourite childhood books.  
One of the most popular childhood books of our time, has to be the infamous Julia Donaldson's classic 'The Gruffalo' which obviously meant this was the perfect story to help us celebrate the day across our care homes! 
National Read a Book Day was created around the special relationships that people have with books. Books that have that magical power to transport the reader to another place, a memory, different realm or even time in History and we simply couldn't imagine a better early September location to visit than the 'Deep Dark Wood'. 
Saskia Binns, Head of Communications at Majesticare commented;
"The National Read a Book Day project was a wonderful opportunity to bring together our residents and teams across our Care Homes to create something really special for the families, friends, local communities & schools to share and enjoy!"
"This fabulous idea, developed and created by Christopher, our new addition to the Majesticare Marketing Team, was so unique and inspiring that I couldn't stop smiling throughout!"
---
Our Wonderful Cast 
Leona – The Mouse, The Mount Care Home, Walgrave, Reading
Heather – The Fox, Cavendish Park Care Home, Evesham
Peter – The Owl, Blenheim House Care Home, Melksham 
Alf – The Gruffalo, Milton Ernest Hall Care Home, Bedfordshire 
Mary – The Narrator, Fernhill House Care Home, Worcester 
Dawn – The Snake, Oaktree Court Care Home, Wellington, Somerset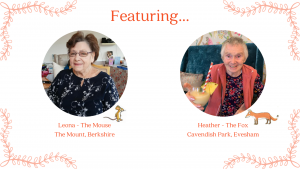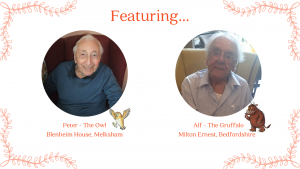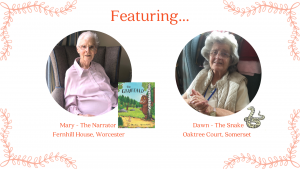 ---
For more information on the wonderful, fulfilling & caring lifestyle your loved ones will enjoy within our beautiful Majesticare Care Homes click to view our locations and book your virtual tour today. 
Care shines through our Majesticare family, it comes from the heart to provide happiness to our residents through trust and creativity.