Celebrating our amazing Majesticare therapy pooches #NationalDogDay
Wednesday 26 August 2020
What better way to celebrate National Dog Day than taking a look at the amazing therapy pooches that are part of our Majesticare family!
Within our Reading & Wiltshire care homes, we have two beautiful furry friends who support our residents and bring much love and smiles to everyone with every visit, these dogs are called Bowie and Bailey.
Meet Bowie.
Introducing Bowie, Home Manager Rachel's simply gorgeous five-month-old Corgi.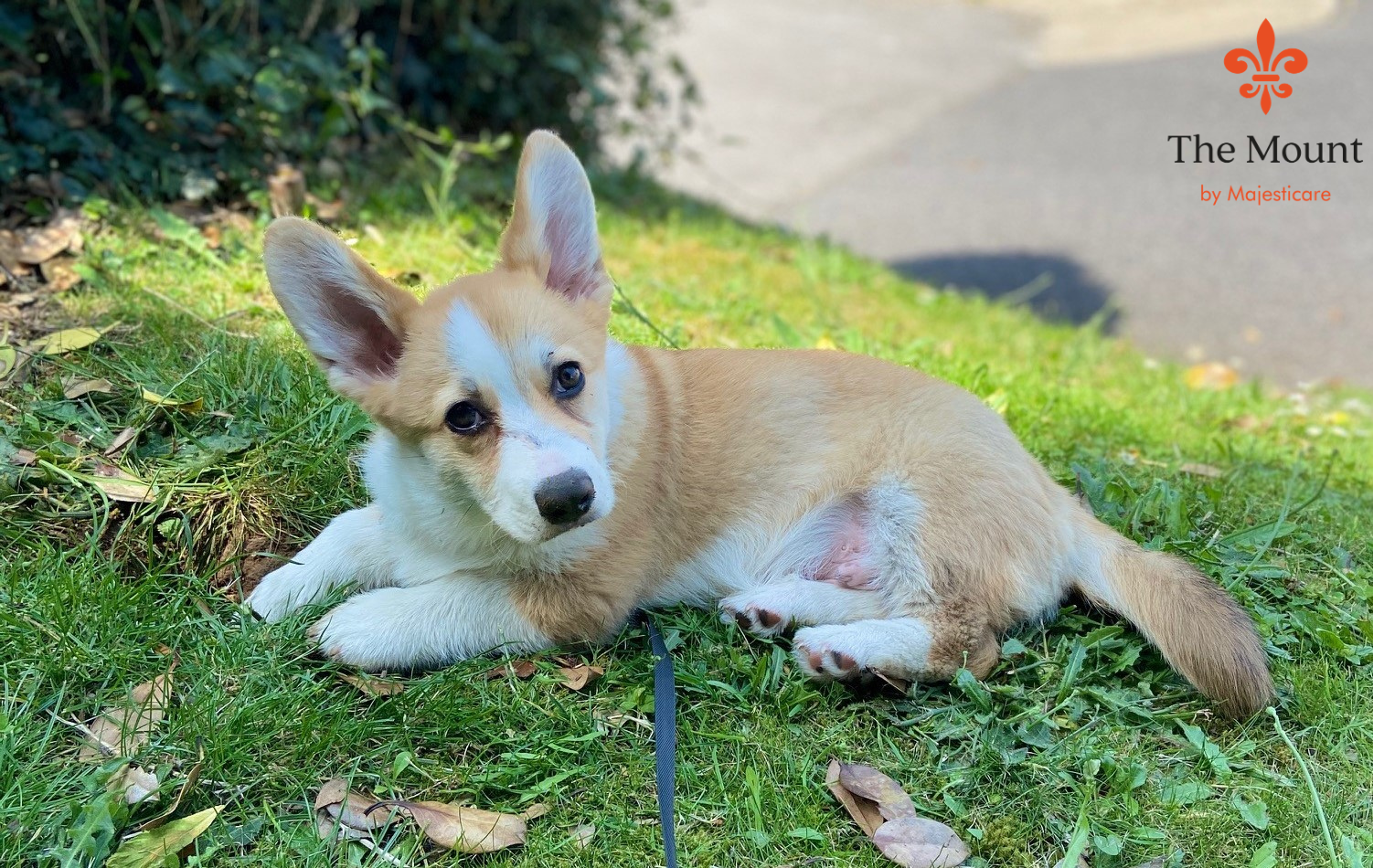 Following his introductory visits to play at The Mount, our residential, nursing & dementia care home in Wargrave near Reading, lovely little Bowie has already become a firm favourite with everyone, and particularly so for those residents who have previously owned their own dogs.
Bowie is already known for his caring and loving nature… and for having a personality almost as big as his ears!
Rachel commented on how Bowie has "already brought so much happiness to staff and residents on his short visits. He has such a wonderful future ahead of him and I cannot wait to see what he achieves with Majesticare.
Bowie is hoping to start his official therapy dog training this coming September and we hear from his occasional and super cute woof, that he's looking forward to the challenge!
Therapy dogs in Care Homes.
There are many proven benefits to incorporating a furry nosed friend into everyone's daily life and at Majesticare we are dedicated to advancing the ways in which we bring that unique care and joy to our residents.
Research has shown that therapy dogs can be a hugely beneficial asset within a Care home to support reducing stress, depression, anxiety and even result in fewer visits from the GP!
It's proven that Therapy Dogs can dramatically improve the wellbeing for residents who have previously had dogs in their life but are no longer able to care for an animal full-time.
Meet Bailey.
Bailey is a one-year-old French bulldog and our gorgeous therapy dog and full-time employee at Blenheim House Care Home in Melksham, Wiltshire. Bailey was rather lovingly named after Peter Bailey a popular ex-resident at Blenheim House care home.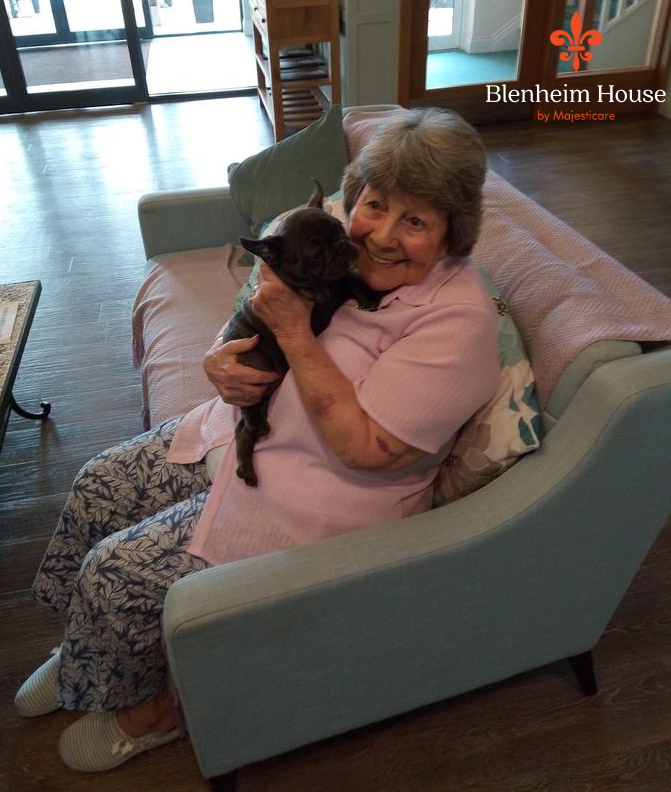 A well-traveled visitor across all three residential, nursing and dementia care floors of Blenheim House Bailey can regularly be found taking part in activities with the home's residents and proving a "daily dose of dog"!
Previous events have included involving our animal-loving residents in regular puppy training classes which has been hugely heart-warming to see such enjoyment for everyone!
Chris Guest, Lifestyle & Events Manager at Blenheim House, takes care of Bailey outside of the home and has described her as a "Wonderful addition to Blenheim House and to our family".
Bailey's hard work doesn't stop when she leaves the care home! Over the last year she has become very well-known within the local community and is the main face of Chippenham Town Council's community safety campaign! Happy in the limelight she never misses a chance to deliver messages of positivity and wellbeing to the residents of Melksham!
---
For more information on the wonderful, fulfilling & caring lifestyle your loved ones will enjoy within our beautiful Majesticare Care Homes click to view our locations and book your virtual tour today. 
Care shines through our Majesticare family, it comes from the heart to provide happiness to our residents through trust and creativity.