Roses of Recognition at Milton Ernest Hall Care Home
Thursday 3 September 2020
Roses of Recognition. Our unique way to say thank you to our Majesticare Heroes.
Developed by an idea from our Finance Director, Steve – we have named 5 individual "Roses of Recognition" as a unique way to show our immense gratitude to members of the Milton Ernest Hall team.  
Taking the Latin meaning of their company values Happiness, Heart, Family, Trust & Creativity to name the Roses,  Milton's Managers nominated a member of their team, each week to celebrate & recognise their dedication, hard work and positivity they continue to bring to their Residents and their colleagues.  
The "Beatus" Rose meaning to be blessed, happy & fortunate was awarded to Tameka Goodman, Kitchen Assistant. "Tameka has been amazing, a great team player She takes on any challenge with such HAPPINESS and POSITIVITY, we are lucky to have her at Milton Ernest Hall Care Home!". 
Nominated for the "Fiducia" Rose, representing Majesticare's value of Trust, Michael Bond, Maintenance. "Michael has worked really hard to get a number of rooms at Milton Ernest Hall decorated to a high standard and quickly, we can really trust that he will do a great job."
The third Rose "Delectio" meaning Love, Goodwill and Delight, Majesticare's Heart value, was awarded to Nerissa Gay. "Her attitude and work level suits our values, she is a great team player with amazing creative ideas."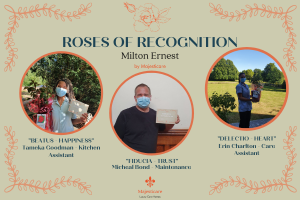 The "Conficiens" Rose representing creativity was presented to Vicki Knight to say thank you for the incredible job in supporting our staff and residents! "Vicki constantly thinking of ideas to help and improve the service, while making it a lot easier for all. She is part of the Life enrichment team always happy to help and support the care team and work with them and at the same time in cooperate life enrichment activities into the personal care she is providing. What a star she is."
Erin Charlton was recognised for the "Necessitudines" Rose, meaning the Majesticare Value of Family. Manager Rosetta Goodman nominated Erin. "Erin as she has been outstanding in her approach to work; she is positive minded, helpful at all times, willing to go the extra mile, supportive towards her co-workers and most of all has a projected vision."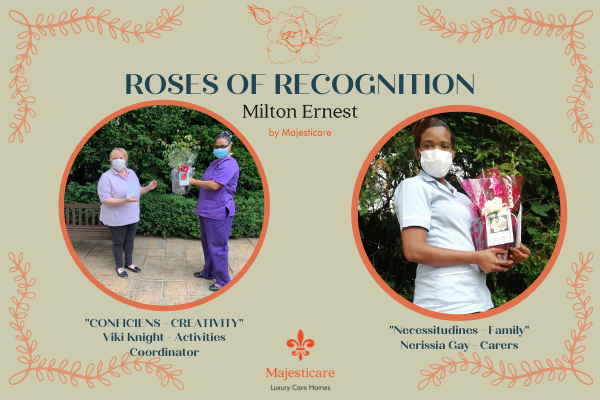 Caren Burton, our Head of Innovation & Happiness commented: "This is such a wonderful idea to dedicate a Rose and a gift that will continue to blossom with a beautiful reminder of the happiness they have brought to others for years to come". 
---
Would you like to join a company renowned for their vibrancy, their positive & rewarding company culture and dedication to their teams' career progression?