The Next Step: Starting your journey
What's on offer?
We have many departments to choose from, each with it's own wealth of knowledge and experience. From day to day placements in care and nursing roles, to keeping the residents happy and entertained with super activities. Are you a budding chef? Well why not try being of assistance to the kitchen with some cooking. When entering our beautiful homes you could be the fabulous face at the front of house, trying the week out as a glamourous receptionist. Or you could be behind the scenes in departments like management and administration. We even have hands on roles like maintenance, housekeeping or gardening. We think we have something for everyone!
If it's an apprenticeship you are looking for we offer a wide range of courses from Levels 2-5! Choose from Adult Care Worker Level 2, Lead Adult Care Worker Level 3, Lead Practitioner in Adult Care Level 4, Leader in Adult Care Level 5 and may more covering administrative, domestic and other support roles.
---
What path do you want to take?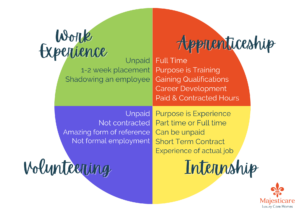 ---
What's in it for you?
You will be able to gain valuable work experience in various departments to support you on deciding what career is right for you. Gain access to professional career advise about all the different departments in the care industry. You will also have the opportunity after your work experience to stay with Majesticare as a volunteer or go on to full time employment! You also have the opportunity to be given a flexible contract, which means you will be able to earn cash whilst working weekends or throughout the holidays!