Oak Lodge's "Wall of Poppies"
Friday 20 November 2020
In honour of Remembrance Day 2020…
In honour of Remembrance Day this year, our beautiful Oak Lodge care home in Chard, Somerset joined together with their local community to create a stunning and thought-provoking 'Field of Poppies' display. In partnership with local surgery, Springmead Surgery and local group, Chard Evolution Majorettes to help raise crucial funds for The Royal British Legion.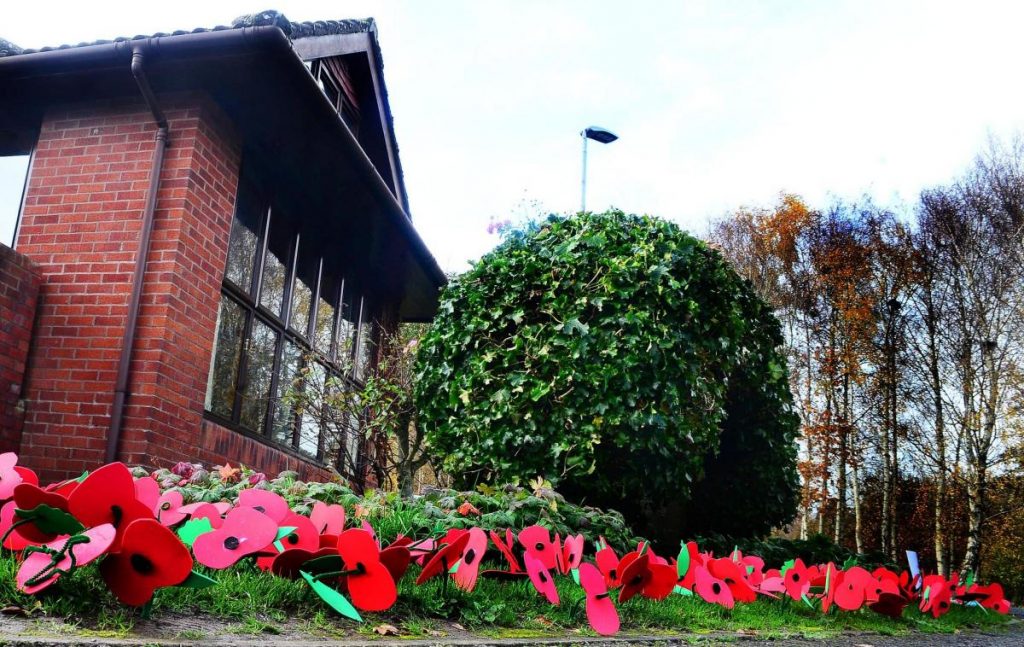 Supporting the Royal British Legion
In order to keep everyone as safe as possible during the pandemic, The Royal British Legion were unable to publicly sell poppies as they have done for many years and therefore saw a sharp decline in the number of donations needed to continue their crucial work with veterans all over the UK. Here at Majesticare we wanted to show our support and solidarity for The Royal British Legion and decided that each of our luxury care homes would create a 'Wall of Poppies' outside of their home to help raise funds for The Royal British Legion's 'Poppy Appeal'.
Oak Lodge Step Up
Wayne Rooney, the amazing Activities Co-ordinator at Oak Lodge was incredibly passionate to get everyone involved in this year's poppy appeal project. Having previously taken inspiration from the 2019 Tower of London's Poppy display, Wayne began creating hundreds of beautiful handmade poppies with the home's residents! Imagine his excitement when Springmead Surgery phoned asking if the home would like to collaborate on a project… suddenly Wayne knew exactly the place for their "Wall of Poppies" display… in the lovely garden just outside of the surgery!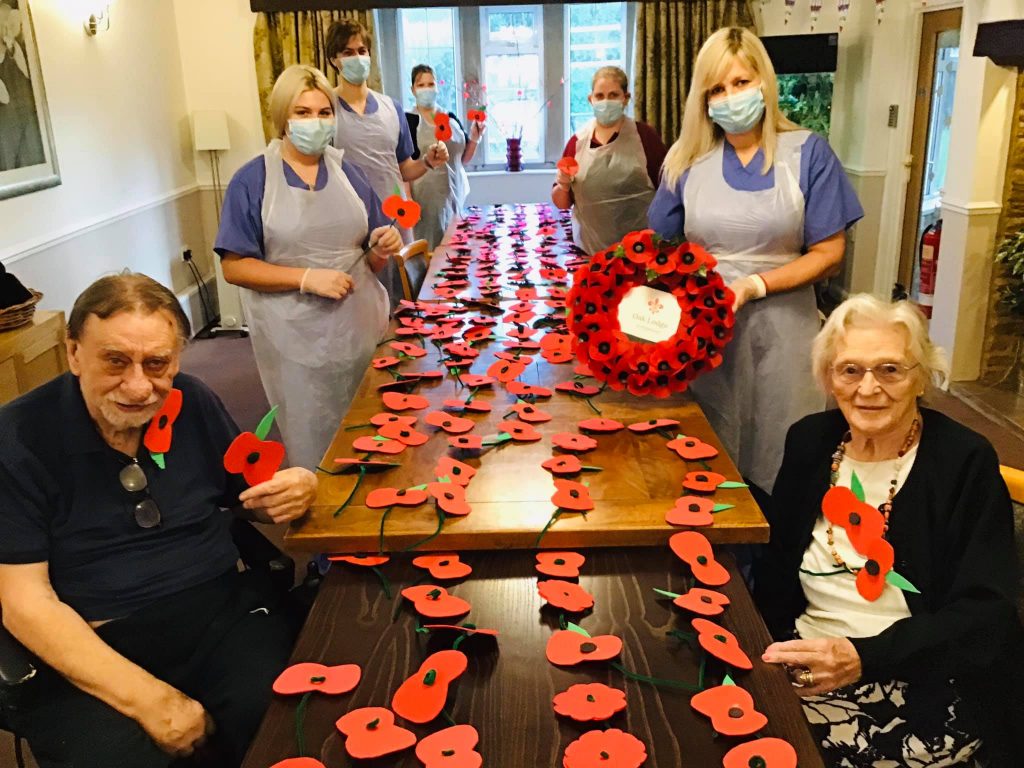 Springmead surgery however was not the only local community group who rallied behind Oak Lodge! A number of other local community groups such as the Chard Evolution Majorettes and Manor Court Primary School along with generous members of the public helped to create over a hundred beautiful poppies and add them to the home's display.
The wonderful pupils at Manor Court Primary School also went out of their way to create their very own Remembrance Day art collage and donated it to the home for it to be displayed in honour of the day. We would like to say a huge Majesticare thank you to all of the local community who donated poppies to our beautiful display, the support that we received was truly amazing and without this show of solidarity the project wouldn't have been as eye-catching!
Manor Court Primary school ask the questions
Wayne's incredible passion to commemorate Remembrance Day didn't stop there!
"I wanted to ensure that generations could still be brought together at a time when we as a community are apart, so I got in touch with Manor Court Primary School and provided a platform for the pupils to ask our Oak Lodge residents questions about life during the war and the memories that they hold".
"The result is a beautiful, heart-warming video from our residents, reliving some of their fondest memories and telling the stories that they hold close to their hearts. Amazing."🧡
Take a moment to watch the video below, we promise it'll make you smile… and we can't promise that you wont shed a tear or two.
A special thanks to Thisisthewestcountry for your kind support in featuring our 'Field of Poppies'.