Wayne raises the bar at our Somerset Care Home!
Thursday 8 October 2020
What better way to celebrate International Beer Day than enjoying a pint of beer at your very own bar! What may seem like a crazy thought to many is exactly what the residents at Majesticare's Oak Lodge Care Home in Chard Somerset, were able to experience thanks to their talented Activities Lead, Wayne Rooney.
Dedicated to his own personal challenge of new ways to keep his residents engaged and entertained, Wayne saw an opportunity to convert an unused corner of one of the home's communal living areas and to create a unique space for his residents to enjoy an afternoon tipple together,  whilst remaining socially distanced!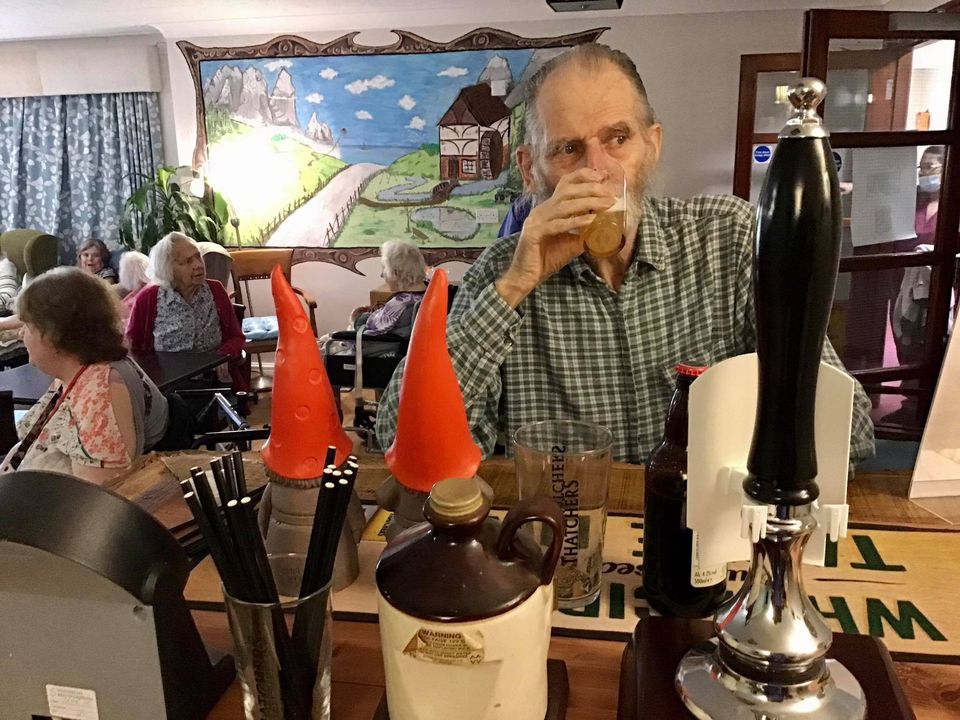 My inspiration…
When asked what inspired him to take on such an adventurous idea, Wayne talked passionately of a vision centred around developing a project that the whole home could work on together. He commented, "I wanted to do something creative with the skills and tools I had available in the home and one which would connect us all with a brilliant end goal."
Design & construction
A self-taught woodwork enthusiast, the homes experienced Activities Lead planned, designed and built the bar from scratch drawing on the skills and support from Oak Lodge care homes' talented residents. He was even more fortunate to have resident Phillip put his architectural skills to the test and together they were able to create a steadfast design for their new bar!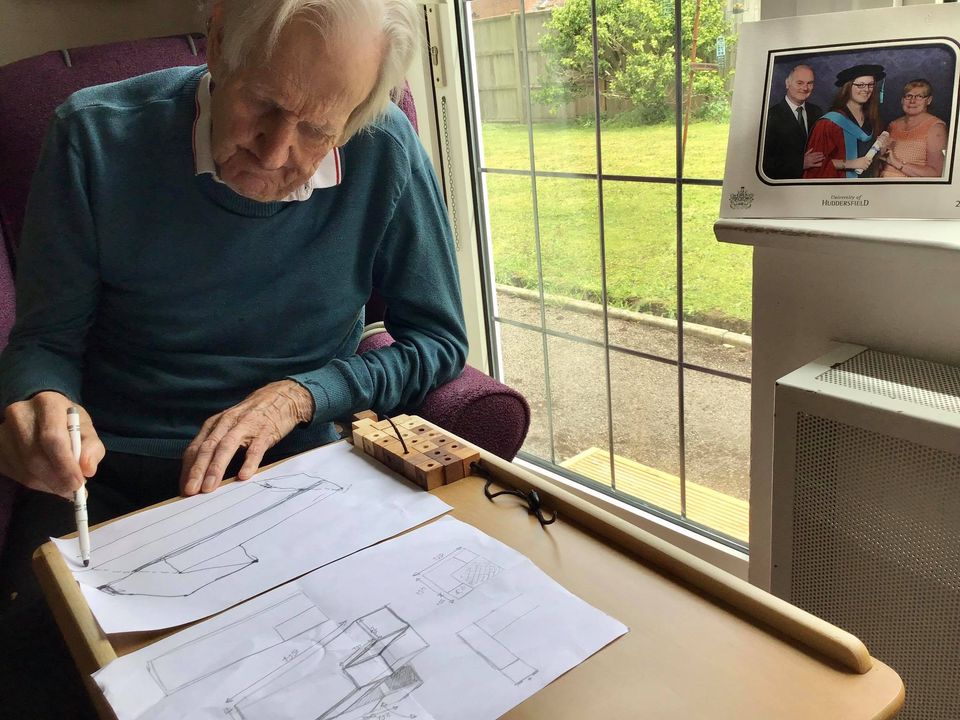 Over the weeks that followed, the Oaklodge team and their residents hammered, sawed, screwed and painted what would be known as the "Oak Lodge Bar". Not happy with just a bar, Wayne wanted to create a true, authentic… and some might say vintage, pub feel and so he reached out to the local community who were nothing but brilliant at supplying beautiful old beer pumps, optics, mats and a classic pineapple ice bucket!
Andy Kirby, Home Manager commented "We've always been so well supported by the local community both before and throughout the pandemic with many kind gifts that this felt a great project that would allow a different kind of community involvement that still abided by the COVID-19 guidelines. To say we were absolutely blown away with their generosity would be an understatement!"
The official opening of the bar was timed perfectly with International Beer Day on Friday 7th August and to celebrate Oak Lodge teamed up with the local Tapstone Brewery who very kindly donated a selection of their locally renowned beers. Brewed in Chard, where the home is based Tapstone pride themselves on their "Uplifting tonics for the soul" which was the perfect description for the feeling flowing throughout the home!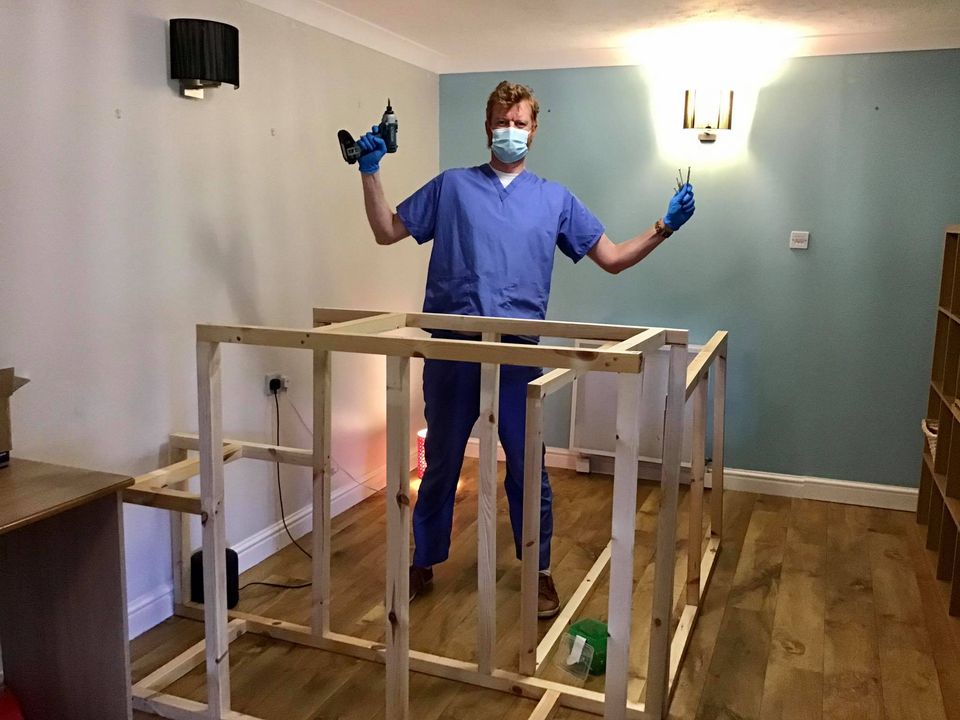 Wayne's initiative and innovative, compassionate approach to providing stimulating activities for his to residents enjoy, have seen him recognised as a "Social Care Covid Hero" by the Great British Care Awards and recently reach the finals of the National Activity Providers Association "Activities Provider of the Year Award"
When asked about the recent recognition Wayne was humble and slightly in awe, he commented "I am very passionate about my role at Oak Lodge. For me it's not a job, it's a privilege, it's taking time to listen, engage and respond and my proudest moments aren't the ones shared on social media but the quiet times when I'm able to do something small and make someone smile. I am so proud to be part of the Majesticare Family!"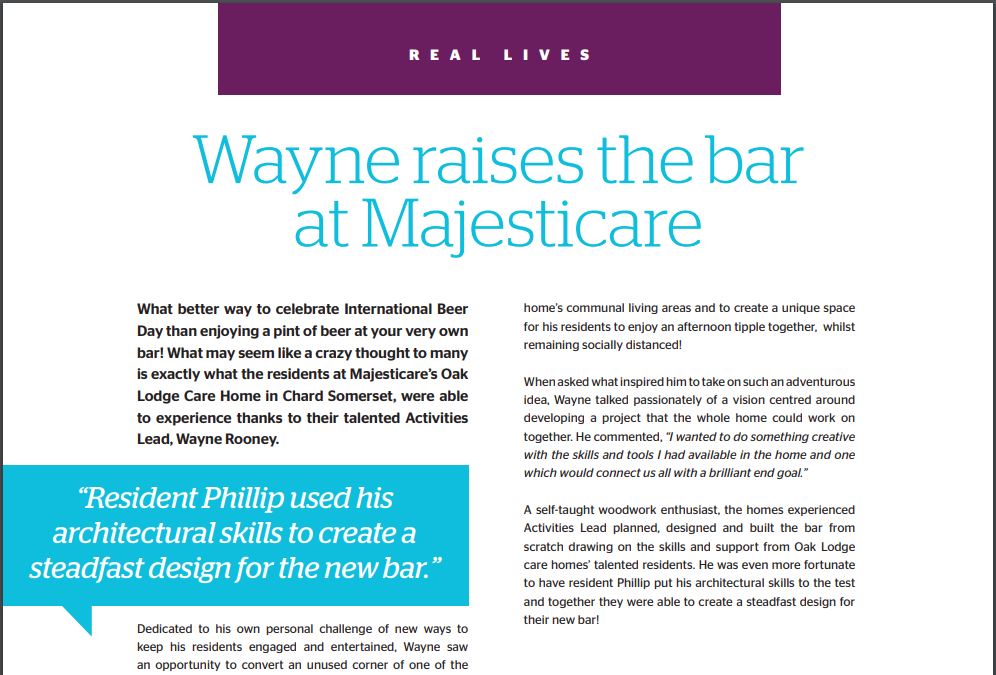 ---
For more information on the wonderful, fulfilling & caring lifestyle your loved ones will enjoy within our beautiful Majesticare Care Homes click to view our locations and book your virtual tour today. 
Care shines through our Majesticare family, it comes from the heart to provide happiness to our residents through trust and creativity.