Roses of Recognition at The Mount
Thursday 3 September 2020
Roses of Recognition. Our unique way to say thank you to our Majesticare Heroes.
Developed by an idea from our Finance Director, Steve – we have named 5 individual "Roses of Recognition" as a unique way to show our immense gratitude to members of The Mount team.  
Taking the Latin meaning of their company values Happiness, Heart, Family, Trust & Creativity to name the Roses, The Mount Managers nominated a member of their team, each week to celebrate & recognise their dedication, hard work and positivity they continue to bring to their Residents and their colleagues.  
The "Beatus" Rose meaning to be blessed, happy & fortunate was awarded to both Janet and Akosua, Care Assistants. "Nothing is too much trouble for these ladies. We appreciate you so much. Thank you so much for your dedication to The Mount!". 
Nominated for the "Fiducia" Rose, representing Majesticare's value of Trust, Gwyneth Ward, Administrator. "Gwyneth is very reliable and works consistently hard. She will always source the correct procedures and represents Majesticare's trust value perfectly."
The third Rose "Delectio" meaning Love, Goodwill and Delight, Majesticare's Heart value, was awarded to Adri Sinclaire and Miriam Queta. "Adri treats all the residents as part of her own family. Miriam has such a kind, patient and caring nature."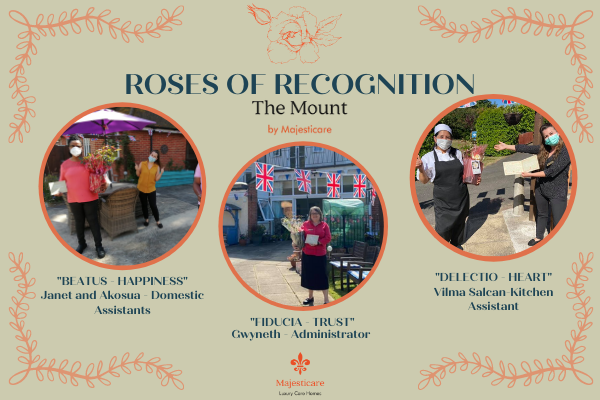 The "Conficiens" Rose representing creativity was presented to Liza Cox to say thank you for the incredible job in supporting our staff and residents! "Liza is always finding creative and innovative ways of keeping our resident's stimulated and improving their mental well-being."
Vilma Salcan-Damian was recognised for the "Necessitudines" Rose, meaning the Majesticare Value of Family. Manager Rachel Stoneman nominated Liza, "She goes above and beyond, manages to keep the kitchen spotless and manages to spend time with our residents as well, singing and dancing with them."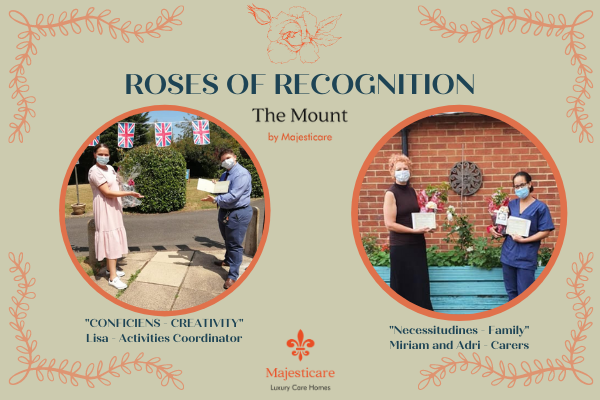 Caren Burton, our Head of Innovation & Happiness commented: "This is such a wonderful idea to dedicate a Rose and a gift that will continue to blossom with a beautiful reminder of the happiness they have brought to others for years to come". 
---
Would you like to join a company renowned for their vibrancy, their positive & rewarding company culture and dedication to their teams' career progression?