Roses of Recognition
Thursday 21 May 2020
Roses of Recognition.


Majesticare's unique way to recognise their Superheroes.

Last week saw the start of our beautiful Roses of Recognition.  Developed by an idea from Steve Oakes our Finance Director, we have named 5 individual "Roses of Recognition" as a unique way to recognise and show our immense gratitude to members of our Majesticare Family.

Taking the Latin meaning of our company values Happiness, Heart, Family, Trust & Creativity to name the Roses, Home Managers are nominating a member of their team, each week to celebrate & recognise their dedication, hardwork and positivity they bring to their Residents and their colleagues.

Last week we named & dedicated the "Beatus Rose" meaning to be blessed, happy & fortunate, to recognise those members of the Majesticare Family who continue to bring so much "Happiness" to the Home, their work and in turn, their work family.

Caren Burton, Head of Happiness at Majesticare commented "This is such a wonderful idea to dedicate a Rose and a gift that will continue to blossom with a beautiful reminder of the happiness they have brought to others for years to come".

"Reflecting on Mental Health Awareness Week, makes this even more poignant and hopefully the Roses will remind our Majesticare "Happiness" Heroes that by sharing their happiness they have had a lasting effect on those around them too'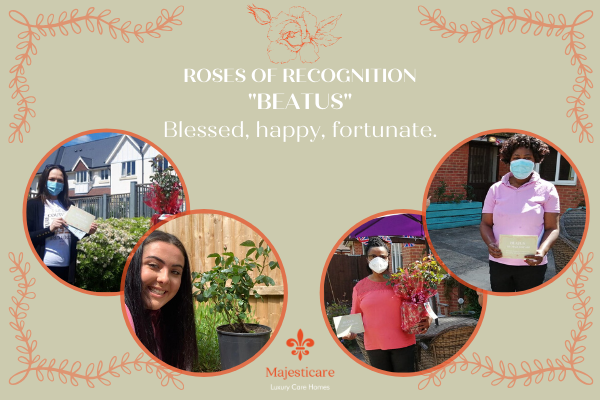 Janet Antwi & Akosua Serwaah, Domestic Assistants at The Mount Care home in Wargrave were nominated by Home Manager Rachel Stoneman,  "Nothing is too much trouble for these ladies, they are always positive and smiling. Our care home always looks clean and beautiful, they have embraced all the new infection control procedures and implemented throughout the home successfully.
Rachel added "We appreciate you so much. Thank you so much for your dedication to The Mount"
Home Manager, Mirko Ridolfo, Home Manager at Blenheim House Care Home in Melksham nominated Samantha Hunt, Health Care Assistant. "Sam greets every day and every challenge with a smile on her face. She has been a constant source of positivity and an amazing team player!"
Sam commented "I feel like we are one big family here at Blenheim House, I love it so much sometimes it doesn't feel like work"
Angie Ryan, Home Manager at Fernhill House nominated Thelma O' Leary, Activities Lead. "Thelma is always jolly and full of life, she never stops thinking about ideas to keep the residents amused. She has a unique way of getting everyone involved and enjoying every activity, even when they didn't think they would!"
Michela Chiaramonte, Deputy Home Manager at Lashbrook House nominated Lucia Bratosin, Head of Care. "Lucia has been a star for Lashbrook House and does a wonderful job. She's always so patient and  available to help everyone with a constant smile on her face even though sometimes the job can be tiring. She faces everything with a positive attitude!"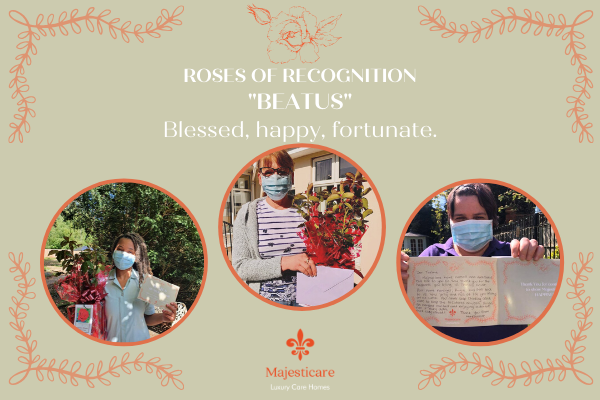 Nicky Perry, Care Coordinator at Oaktree Court was nominated by Home Manager Marie George and Deputy Manager Abbie Foster. "Nicky is just so bubbly, fun and happy. She always goes the extra mile to make people smile and laugh in the home & really does keep everyone going, thank you Nicky!"
Cavendish Park's Home Manager Dan Bridges nominated Amy Neville, Healthcare Assistant "Amy always makes people smile and laugh through her creativity and this has not just reached people in the home but our followers on social media too. She is simply fantastic at spreading Happiness throughout Cavendish Park!"
Tracy Gibbons, Healthcare Assistant at Oak Lodge Care Home was nominated by Home Manager Andy Kirby for all the special things she does to make the residents feel happy. "Tracy is always cheerful with everyone, always smiling and good fun to work with. She works really hard too, nothing is too much trouble for her. We feel so lucky to have her as part of our Majesticare team!"
Rosetta Goodman, Home Manager at Milton Ernest Hall Care Home chose to nominate Tameka Goodman, Kitchen Assistant for her constant commitment to support her team. "Tameka has been amazing, a great team player that hasn't grumbled once, she jumps straight in to help wherever needed! She takes on any challenge with such HAPPINESS and POSITIVITY, we are lucky to have her at Milton Ernest Hall Care Home and a member of the Majesticare Family."
"This is such a wonderful idea to dedicate a Rose and a gift that will continue to blossom with a beautiful reminder of the happiness they have brought to others for years to come"."